About Us




AUTHORING AND PROGRAMMING
Visual Basic, C++, Java, Delphi, Graphics, More...


BUSINESS
Accounting, Financial, Stock, Managment, More...
EDUCATION
Science, Music, Teacher's Tools, Language, More...
FAMILY
Astrology, Religion, Sports, Child Care, Health and Fitness , More...


GAMES
Arcade, Simul., 3D Action, Arcade, Casino, Card, Sports, More...


INFORMATION MANAGEMENT TOOLS
Calendar, Reminder, Personal Info, Information Database, More...
LINUX
KDE, Archivers, Development, X11, More...


MULTIMEDIA AND GRAPHICS
MP3, Video/Animation, Midi, Wave, More...


NETWORK AND INTERNET TOOLS
Browser, E-Mail, Accelerat., Server, Net Manag., Monitoring, More...
PRODUCTIVITY
Office, Database, Calculator, Calendar, FAX, PIMs, More...

SHELL AND DESKTOP TOOLS
Themes, Wallpaper, Cursor, Screen Saver, Manage, More...


UTILITIES
Anti-Virus, Autom., Compr., Disk, File, Uninstaller, System, More...

WEB AUTHORING
CGI, HTML Editor, Site Map,
E-commerce, Promotion, More...

WINDOWS CE
Games, Authoring, Network& Internet, Desktop, more ...
Special Product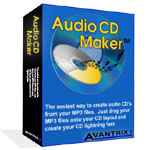 Want to create audio CD's with MP3 files you have on your computer? Audio CD Maker™ is an easy and affordable way to create high quality CD's from your MP3 files. Audio CD Maker™ also allows you to create MP3 format CD's that can be played in any MP3 compatible player like DVD players and portable MP3 players!

Features included in Audio CD Maker ™:

Create both standard audio & MP3 style CD's
No need to convert MP3 files before creation of your new CD - Burns MP3 files on the fly
Add MP3 & WAV files to your CD Layout
Test, test & burn or just burn your new CD
Smart recognition of system CD recording devices
Smart recognition of CD recording maximum speed
Support for all popular CD recording models
Support for all sized CD's
Retrieve inserted CD session and available size information
Quick and reliable recording
Burn-Proof Technology to create CD's error free
Easy to use intuitive user interface